The Keeyp: Print & Play Edition
Check out the New, Free expansion!
2-6 Players | 20 Minutes | Ages 7+
This is a PDF only product

The Keeyp is a Roguelite-inspired board game where you build out the dungeon as you play, making each game feel fresh and exciting!
Explore the dungeon each turn, gather unique items, and engage in combat with other players. The first player to get the Key and escape through the Gate wins (or the last player standing if nobody has escaped).
Can you find the Key and make it to the Gate first?

---
What's Does the PDF Come With?
Keeypling Printable Cards (x14)
Keeyp Printable Tiles (x35)
Item Printable Cards (x36)
Key Printable Card (x1)
PDF Rule Booklet
What Supplies will You Need?
Ink Printer (x1)
Printer Paper (x12)
Scissors/Xacto Blade* (x1)
6 Sided Dice (x7)
---
What's The Keeyp?
Build your Keeyp
Tired of playing the same map every game? In The Keeyp, players build out the map while they search for the key. Once someone finds the key, it's up to everyone to stop them from finding the gate and escaping.
Unique Characters
The Keeyp currently features 12 quirky characters known as Keeyplings. Each one has its own special ability and stats. Make sure to choose your Keeyplings wisely.
Get Equipped
Along your journey, you'll find weapons, shields, and other helpful items. Use them to make allies or ruin friendships as you race to the gate.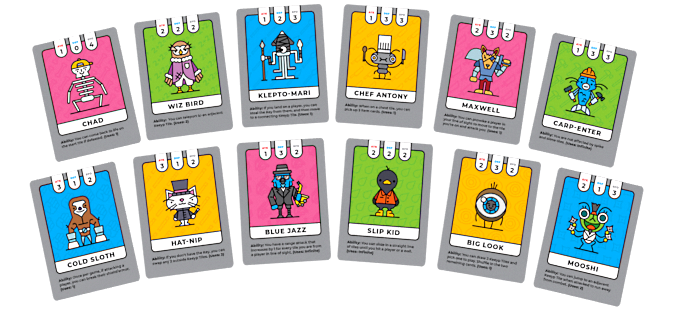 This item is the digital PDF download redeemable via direct download.

* Be extremely careful when cutting! Make sure to ask an adult for help.


Join our Discord Server and tag Goodgis or JankyBread to get your Keeyp-related questions answered: https://discord.gg/BhVRust

Purchase
In order to download this game you must purchase it at or above the minimum price of $12 USD. You will get access to the following files:
TheKeeyp - Instructions.pdf
722 kB
TheKeeyp - Instructions (B&W).pdf
754 kB
TheKeeyp - Printable Cards.pdf
12 MB
TheKeeyp - Printable Cards (B&W).pdf
8 MB
(BONUS) Keeypling Character Cutouts.pdf
1,008 kB